Disclaimer: This post may contain affiliate links, which means I receive a small commission if you decide to make a purchase through these links, at no extra cost to you. Read my full disclosure for more info.
Welcome back to another blog growth post on SEO!
Today I'm sharing with you one of the best keyword tools that I've been using for my keyword planning routine. More than that, it's free to get started with a plan and you can start searching for keywords in your niche right away.
Disclaimer: This post may contain affiliate links, which means I receive a small commission if you decide to make a purchase through these links, at no extra cost to you. Read my full disclosure for more info.
Know why you need keywords?
It's always better to have a plan to where you are going before heading to the destination.
Keywords are like route map, you already have the direction on where you're going (your blog niche), but you just have to stick with the best route to get results fast. (rank on Google)
Having the right keywords can be pretty cool especially when you meet them in these scenarios:
High volume (Many people search about this)
Low competition (Lesser competitor in the market)
I talked more about this in my another SEO tackle post.
Those 3 criterias are what you need to pinpoint at when searching for the keywords of your next blogging content.
Build up a real castle, not a sandcastle.
KEYWORDS ARE HELPING YOU TO BUILD UP AN EMPIRE
Do not ever think that the time you're looking for keywords is being wasted.
Because you're going to do something big with the content once you make use of the powerful keywords in your blog post.
KEYWORDS HELP YOU GET RANKED (WITH GOOD CONTENT)
More readers will come to your blog when they search that particular keyword you use on Google.
That's why it comes in handy when you are using keyword tools for your blog.
You get the first hand juicy keywords they've prepared in sheets so you can see which data can let rank higher with SEO keywords.
And again, it's just a piece of cake to manage your keyword planner once you get started with these keyword tools.
Within clicks, you get all the juicy keywords that'll bring traffic to your blog.
PICKING A KEYWORD
But take note, you should be aware that it's fine to pick a single keyword from the lists when writing a new post.
Don't choose a ton of them because you'll not get ranked for that – by becoming a keyword machine poring out every keyword you want.
When you found the keywords that ranks, it's even exciting to know that it can be your blogging content for a month!
From there, you can pitch on a few interesting contents to write about that field and eventually ranking #1 on Google.
You can learn more about how SEO can affect your blog ranking here.
Even Neil Patel says, when his blog content views isn't growing, he searches for keyword ideas and make the blog post even more complete, and the outcome turns perfectly well, the traffic is growing to his blog once he adds up the ideas with keywords on his niche.
Here is the top free Google keyword tool you can jumpstart with SEO keyword easily without having a headache.
With one brand combined with 5 major tools, Mangool has been making SEO simple by using these tools wisely on the dashboard.
The basics tools got you covered with:
5 Main Powerful Tools
KWFinder
SerpChecker
SerpWatcher
LinkMiner
SiteProfiler
Well, at least it didn't take me an hour to figure out how to get the right keywords anymore! when there's KWFinder.
I'm actually glad that there is such wonderful tool that is useful especially for bloggers like me who just started out with blogging and doesn't have much budget to spend on keyword research. (and still want to compete and get ranked in Google) 🙂
So let's get started with the keyword routine plan. Grab your 10-day free trial with my link.
Step 1 – Search a keyword
To search for a keyword, go to KWFinder, and search for a keyword that's related to your blog niche. (keyword you are planning to write about) easy-peasy 🙂
For example, for my craft blog, I'll search about [abstract art] to see if there's a great demographic data rank on that keyword.
Then, target a location or the language your blog intends to focus on for the best result.
---
Step 2- Observe and Understanding Your Data
If the keyword you typed in shows a demographic, you'll get to save up to 25 powerful volume keywords data in your list.
That will be all you need as a beginner to write up your first post!
Remember, I insist in the beginning that you actually only need 1 single keyword to excel in your one post.
When it shows N/A on the volume, it means that there's not enough data for that particular keyword.
So it's better to forget about that keyword, in this case, if you are trying to pinch on a post that will rank higher on Google.
---
Step 3– Saving your keywords
One thing I like about KWFinder is that they make it so easy to pin or save every related keyword in my niche!
NEVER LOSING YOUR KEYWORDS FROM THE DATABASE
Tick all the keywords and click on the [Add to list] button to save them in your Mangool dashboard.
Save the niche keyword you pick from the search bar and you can now refer them through the new list created. just that easy!
Step 4– Export your keywords
You can skip this step if you'd like to keep your files on the go with Mangool. No worries, they always keep your keyword data safe so you can refer to the keyword data on the dashboard.
But, I've basically like to keep my keyword organized in a Google Spreadsheet, as it works well for me to scan through all the data for my keywords.
So it's definitely on yours depending on how you would like to go with your keyword routine plan.
Way to go if you are serious with blogging and keep it up!
EXPORT KEYWORD DATA INTO EXCEL FILE
Export your keyword lists in .csv form to save them in Google Spreadsheet or open in Excel to choose your right keywords today!
I usually save them in Google Drive for easy reference and lookout for the best keyword ideas at any time I want.
Keyword SEO Difficulty in KWFinder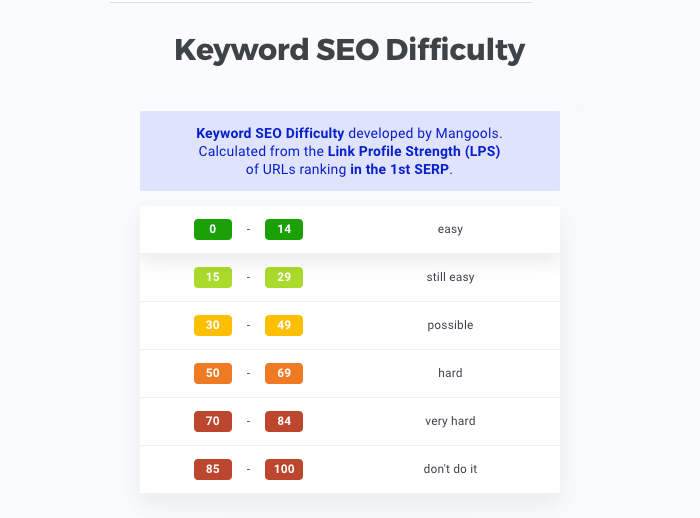 Here is a basic range that lies in between whether your keyword is easy to rank on Google or not.
The greater value is your keyword difficulty, the harder it is to rank on the 1st SERP.
KD stands for keyword difficulty in this case.
Basically, stay away from the red ones to leverage your blog traffic simply with SEO tools.
It is how experts rank their blog so well because they get to produce content with keywords that no one else is currently working on it.
Start your KWFinder guide here!
Benefits of Google Keyword Tools:
No more time-consuming keyword planning
Improve blog traffic and productivity
Solutions to create the engaging blog content
Generate keyword lists in Google Sheets
Why KWFinder is a good choice?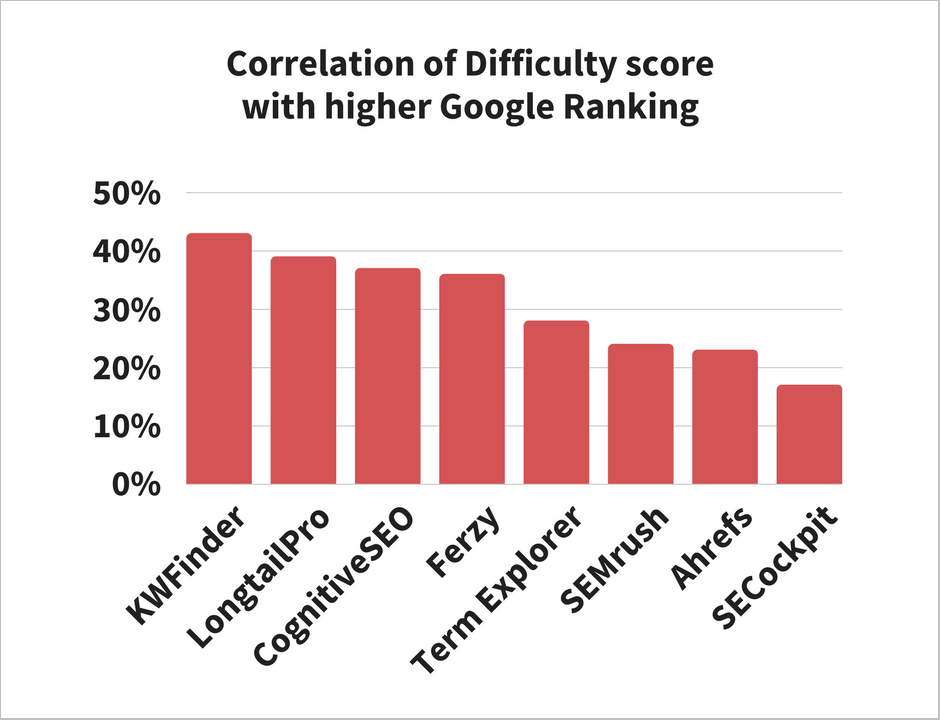 KWFinder by Mangool has been doing a great job since 2014, becoming the most accurate keyword difficulty tool, as analyzed by Authority Website Income.
Higher accuracy of data for keyword relevance in blog niche
Instant update with the latest value of SEO keyword difficulty (cached for up to 30 days)
Easy-to-understand interface tools
Offering free trials and affordable subscription with $29.90/mo
---
Start planning your free keyword lists this weekend and you'll get the most out of it in the long run. (rooting for your blog!)
I hope this gives you a better idea of planning a keyword routine with SEO tools online. Happy blogging! 🙂
Don't forget to get a free trial before you go, the juicy SEO tools you'll need to grow your blog with the right techniques.
---
That's it!
I hope this tutorial gives you a better idea on how to get started with keyword research (aka your keyword routine) so that you can grow your traffic quicker with the best result you can have!
Results may vary but as long as you're willing to put in effort in writing good content, people will know who are you and your keywords are always there to support, ranking your articles to inspire more people!
Let me know if this keyword routine tutorial helps!
---
If you think this post helps, please share it on Pinterest 🙂
---
Graphic Credits:
Infographic vector created by roserodionova